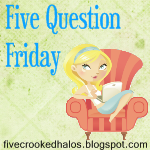 1. Who is the better cook, you or your spouse? Me, for sure. He can cook a mean breakfast though!
2. How often do you talk to your mom? A few times a week.
3. Are you adventurous in the kitchen or stick to the recipe? I am pretty adventurous. Mainly, because I am pretty picky. I omit a lot of stuff.
4. Is your second toe longer than your big toe? Nope.
 5. Do you dress up for Halloween? (Bonus question: What will you be this year?) I do not dress up in a costume but I wear something Halloween-y. I think this year I am going to wear an orange shirt topped with a black cardigan, jeans, and some mary jane shoes with cats on them!