Ryder has his dr. appointment today. He looks good and is meeting his milestones. He weighs 12 lbs. 13. oz (75%) I thought he weighed more. He has a lot of chub rolls that I have to clean out lol. He's 24.5 inches (90%)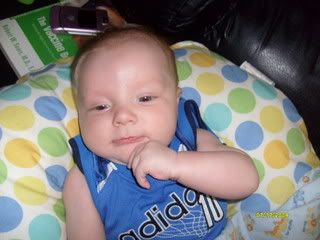 My dad watched Hunter when we took Ryder to dr. When we were done we ran to Borders to get Hunter some books. I got him 2 books that have CDs that reads to you. He really loves them!
Hunter and I just colored and danced today. He's just a fun kid. He went outside to play for a little bit today, it's just too hot to be out there for a long period of time.
Hunter's quote of the day is when I handed him a drink he said,
"Thanks!"
and when I didn't say you're welcome he said
, "Mom I'm welcome too!"