It's been a few days since I updated.
Saturday, I went with my mom to go to Macys. They ended up being closed already. They sold everything in the store before Sunday. Figures. I mean it was 90% off. We walked around Crestwood mall. It's kinda sad what it has become. It used to be the best mall around. Before West and South county got bigger. My mom counted like 55 stores out of business. I know never to waste my time going there again. We went to Target and Toys R Us after. I got the boys some Easter basket goodies. Well Mainly Ryder. He got a lot of Yo Gabba Gabba things for his basket. He's very interested in the show. I swear that he has said
Muno
a couple of times. Billy heard it too.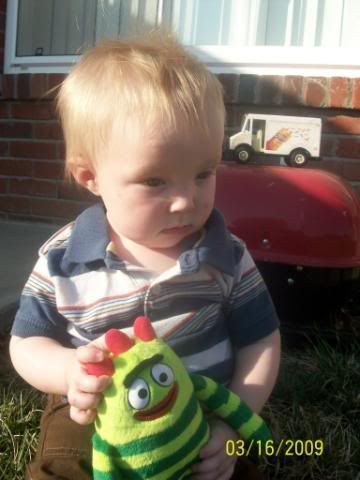 Sunday. We stayed home and kinda cleaned. We mainly listed unwanted things on ebay.
Yesterday was so nice. The boys and I went out side to play for awhile.
Billy decided that he wants to be a driver at his work now. He put a bid on a position yesterday. He'll get it. He has the most seniority out of most of the people there. Especially who wants it. So he now has to get his CDL. It's not horrible I guess. He already knows how to drive the trucks. Plus Pepsi pays for him to take the test. If they didn't it'd cost him $500.
We went to Walmart this morning to get a few things. I'm gonna have Hunter help me in a bit make green jello.
I'm super excited for this weekend. Juicy Couture is having a friends and family sale. 25% off almost everythings. We'll be going to Frontenac to go shopping at the Juicy store!
Ryder is waking up from his nap. Got to go.
What I'm listening to: Gotta Go by Agnostic Front